An unknown variable of time into the future, The Warden made Superjail a franchise, lost his mind, and waged war against the whole world. After killing the remaining world leaders, he was left solely in charge, where he created a fascist-like government.
Personality
Edit
During the time between when the Warden first decided to make Superjail a franchise, and when the viewer first sees this version of him, he had waged a war, which could have possibly been what drove him to insanity. He showed no remorse for making innocent people suffer; it even went as far as when he complimented Jared for shooting a woman who was trying to protect her baby.
Relation to Other Characters
Edit
Jared- They get along very well, and seem to be more like partners in contrast to their present selves, though Future Jared still takes care of finances.
President- Both of them are engaging each other in war. In The White House, he was forced by Future Warden to sign a peace treaty. As he was about to sign, his pen turned into a knife, and he attacked the Warden, yelling "die, you madman!". He, along with the other leaders of the world, was disintegrated by JailbotX. 
JailbotX- JailbotX serves Future Warden during the war and was even loved, when killing the president and the other world leaders.  
The government system that he had was very similar to that of a Nazi like dictatorship and he even had concentration camps to go along with it.
Unlike Adolf Hitler, Future Warden wins a world war and becomes ruler of the whole entire world, along with destroying all of earth's land.
Like other dictators, Future Warden has many super weapons that cause more destruction and even more deaths.
Similarly to the present Warden, Future Warden is an extremely popular character among fans with a large amount fan-created content dedicated to him. With Future Warden's few appearances, many hope that he will make an eventual return.

However, he had only made his one appearance before the show's cancellation.

The spiked helmet that's worn on his head is based on a German-Prussian Pickelhaube.
Ironically, his outfit is a resemblance to what Kaiser Wilhelm II wore.
Gallery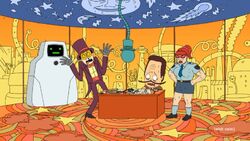 Click here to view the gallery.