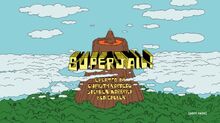 Superjail! is an american animated series produced by Williams Street. It is currently being aired on Adult Swim (Late night on Cartoon Network) and was created by the talents of: Christy Karacas, Stephen Warbrick, and Ben Gruber. The show first aired on May 13, 2007 as adult swim aired the Pilot. Later the episode Superbar was aired unfinished on April 1, 2008 as part of a sneak peek of possible shows. Superbar was re-aired finished on September 28, 2008 and so started Season 1. It has been known for its graphic violence and psychedelic splendor.
The Universe of Superjail takes place mainly in the titlular prison, which is located inside a volcano (which itself is inside a larger volcano) and seems to percive its own reality, in which The Warden bends life and reality on a whim.
Each episode of Superjail follows a similar pattern: the criminal Jacknife is brought to Superjail by Jailbot in the cold open. During this time, or occasionally as a result of his arrival, one event or another will inspire The Warden to carry out some sort of crazy scheme, with which The Twins almost always interfere. The combination of these two factors eventually leads to a spectacular psychaedelic bloodbath when the prisoners are driven to violence. Several prisoners end up dying, often in humorously horrific ways, while Jacknife escapes amidst the commotion. This cycle repeats in the next episode.
Development
Edit
In many ways the show was pre-dated by Bar Fight (A four minute long animation) which was made by Animators Christy Karacas and Stephen Warbrick. It has similar style that included a fight much like the ones shown in the Superjail show.
Episode Guide
Edit
Main Characters
Edit