Welcome a Board!
Edit
I like to Welcome you to the Superjail Wiki! Please watch your step, those prisons can be quite messy on the floor! Thanks for your contributions.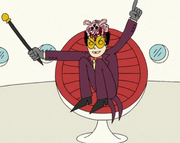 A few tips for this wiki:
Please remember to sign your name on discussion pages by typing ~~~~ which automatically adds your signature and the date.
Please read the Community Portal to know what is expected.
Before making a new page use the search bar, or topic on the front page of the wiki and search for it, in case its already made.
Please leave a message on my talk page if I can help with anything! Devilmanozzy